· piątek, 1 lipiec 2016 ·





II AKADEMICKIE MP KYOKUSHIN UNIWERSYTET JAGIELLOŃSKI KRAKÓW 2015
9 maja 2015

6 czerwca 2015 r. w Hali Studium Wychowania Fizycznego i Sportu Uniwersytetu Jagiellońskiego w Krakowie odbyły się II Akademickie Mistrzostwa Polski Kyokushin z udziałem 104 zawodników reprezentujących 25 akademickich klubów. Otwarcia dokonali Dyrektor MDK "DH" Aleksandra Grodecka, Prezes MTSR "Sowiniec" Wojciech Wansner i Kierownik SWFiS UJ Witold Ziara. Sędzią głównym był shihan Andrzej Drewniak, sędzią technicznym sensei Robert Kopciowski. Obsługę komputerową, speakerkę i losowanie realizował sensei Edward Urbańczyk. Obsługę medyczną pełnił dr Krzysztof Mawlichanów. Patronat prasowy sprawował Dziennik Polski a relacja live została wykonana na stronie www.live.malopolskatv.pl
Sponsorem i realizatorem akademickich mistrzostw byli MDK "DH" i MTSR "Sowiniec" działający we współpracy z SWFiS UJ a bezpośrednim organizatorem był sensei Artur Stecki i jego sekcja kyokushin.
Do zobaczenia za rok na III AMP Kyokushin w czerwcu 2016 roku.

V OGÓLNOPOLSKI TURNIEJ MŁODZIEŻY O PUCHAR SOLNY WIELICZKA 2015
19 czerwca 2015

13 czerwca 2015 odbył się w Hali sportowej Solne Miasto w Wieliczce V Ogólnopolski Turniej Młodzieży o Puchar Solny z udziałem ponad trzystu zawodników z 24 ośrodków w tym Wiednia, Austria. Otwarcia dokonali Burmistrz Miasta Wieliczka oraz Starosta. Sędzią głównym był shihan Andrzej Drewniak a sędzią technicznym sensei Bogdan Świątkowski 4 dan. Zawodnicy startowali w ponad trzydziestu kategoriach wagowych i kata w konkurencjach juniorów, młodzikow, kadetów i dzieci. Organizatorem turnieju był Wielicki Klub Karate Kyokushinkai prowadzony przez kierownika ośrodka sensei Roberta Kopciowskiego 4 dan.

42. MISTRZOSTWA POLSKI SENIORÓW KYOKUSHIN KOSZALIN 2015
13 maja 2015

30 maja 2015 odbyły się w nowoczesnej Hali Sportów Walki w Koszalinie 42. Mistrzostwa Polski Seniorów Kyokushin z udziałem blisko 120 zawodników z 46 ośrodków Kyokushin. Uroczystego otwarcia dokonali Prezydent Miasta Koszalin Piotr Jedliński i Prezes PZK Maciej Sokołowski. Sędzią głównym był shihan Andrzej Drewniak a sędzią technicznym shihan Jacek Czerniec, który prowadził także weryfikację i losowanie. W sędziowaniu na 3 matach społecznie uczestniczyło 32 kierowników ośrodków i instruktorów. Poziom walk finałowych był bardzo wysoki. Po raz pierwszy w historii Kyokushin zdarzyło się, że 3 ośrodki Kyokushin zdbyły tą sama liczbę punktów czyli trzy pierwsze miejsca w klasyfikacji drużynowej. Lokalna prasa, radio i TV podkreśliły wysoki poziom walk finałowych i sprawną organizację, co pozwoliło zakończyć imprezę o godz. 17.00.
Organizatorem mistrzostw był Koszaliński Klub Karate Kyokushin kierowany przez sensei Andrzeja Kłujszo, któremu pomagała duża grupa woluntariuszy.
FOTO: Andrzej Tyrlka i Janusz Wołyniec

V MIĘDZYNARODOWY TURNIEJ DZIECI I MŁODZIEŻY - ONE WORLD ONE KYOKUSHIN - LIMANOWA 2015
22 kwietnia 2015

23 maja 2015 w Hali sportowej przy ZSS nr 3 w Limanowej, odbył się Międzynarodowy Turniej Karate Kyokushin Dzieci i Młodzieży "One World One Kyokushin" z udziałem około 550 zawodników z ponad 50 ośrodków w tym Austrii, Czech i Ukrainy. Otwarcia imprezy dokonał Vice-Prezes PZK Andrzej Drewniak, Przewodnicząca Sejmiku Woj. Mąłopolskiego Urszula Nowogórska, Starosta Limanowski Jan Puchała, Burmistrz Miasta Limanowa Władysław Bieda oraz Poseł Wiesław Janczyk. Sędzią głownym był shihan Tadeusz Krygowski, sędzią technicznym był shihan Andrzej Krawontka.
Partnerem Głównym Turnieju było Województwo Małopolskie. Organizatorem turnieju był ARS Klub Kyokushinkai w Limanowej kierowany przez sensei Arkadiusza Sukienika. Współorganizatorem turnieju było Starostwo Powiatowe Limanowej oraz UM Limanowa. Patronat Honorowy nad turniejem objęli: Marszałek Województwa Małopolskiego Marek Sowa, Przewodnicząca Sejmiku Woj. Mąłopolskiego Urszula Nowogórska, Starosta Limanowski Jan Puchała, Burmistrz Miasta Limanowa Władysław Bieda. Potronat medialny sprawowały: TVP Kraków, Radio Kraków, Dziennik Polski, Gazeta Krakowska, MałopolskieTV, Echo Limanowskie, portal informacyjny Ziemia Limanowska.


29. MISTRZOSTWA EUROPY ESTONIA 2015
18 maja 2015

15-17 maja 2015 odbyły się w Kohtla-Jarve, Estonia 29. Mistrzostwa Europy Kyokushin w
kategoriach wagowych z udziałem 268 zawodników z 22 krajów w tym Japonii. 15 maja odbyło się coroczne Walne Zebranie EKF z udziałem 22 krajowych reprezentantów i zaproszonych gości. 16 maja Mer miasta Kohtla dokonał uroczystego otwarcia mistrzostw. Honorowymi gośćmi byli: członek Parlamentu Estoni, Prezydent EKF Antonio Pinero, Sekretarz generalny Andrzej Drewniak, Skarbnik Lars Hogquist i Sekretarz KWU Sergey Suvorov. Lekarzem ME był dr nauk med. Krzysztof Mawlichanów, który od kilku lat pełni funkcję lekarza kadry narodowej Polskiego Związku Karate. W Międzynarodowym kursie sędziów uczestniczyło 28 sensei w tym 6 Polaków.
Sędzią głównym był shihan A. Pinero a sędzią technicznym sensei R. Kopciowski, sędziowali także shihan A. Krawontka, sensei P. Sujka i M. Urbański. Losowanie i obsługę komputerową realizował sensei R. Wajgelt. 30. Mistrzostwa Europy planowane są w Istambule, Turcja 13-14 maja 2016.


ZGRUPOWANIE KN W COS ZAKOPANE 2015
2 maja 2015

W dniach od 30 kwietnia do 3 maja 2015 w nowo otwartym po remoncie Centralnym Ośrodku Sportu OPO w Zakopanym odbyło się Zgrupowanie KN. W zgrupowaniu brało udział 32 uczestników w tym wielu medalistów Mistrzostw Europy i Mistrzostw Polski. Program ukierunkowany na przygotowanie Reprezentacji Polski do Mistrzostw Europy w Estonii został wykonany w całości. Trenerami byli shihan Andrzej Drewniak, sensei Maciej Sokołowski i sensei Robert Wajgelt. W ramach Sayonara uczestnicy przebywali w Zakopiańskim Parku Wodnym gdzie robili podwodne zdjęcia. Reprezentanci Polski otrzymali powołania do udziału w ME a jedna zawodniczka dodatkowo tort urodzinowy. Koszty zgrupowania pokrył Polski Związek Karate.
GALERIA

DO WSZYSTKICH PRAWDZIWYCH MIŁOŚNIKOW KYOKUSHIN
26 kwietnia 2015

To juz 21 lat od chwili, kiedy Sosai Masutatsu Oyama odszedł pogrążając nas w smutku a jednocześnie przekazując nam idee Kyokushin w nasze ręce, to znaczy w ręce młodszego pokolenia, pokolenia tych, którzy powinni nieść znicz ognia Kyokushin, który został wzniecony przez Jego wewnętrzny płomień poszukiwania Drogi Kyokushin. Sosai odnalazł tę Drogę, która przecież nie ma końca, gdyż nie ma końca drogi poszukiwania Kyokushin, porostu nie istnieje żadna "stacja końcowa" tej Drogi. Cierpliwość i Jego niespotykana samodyscyplina pozwoliły Sosai zbudować pomost pomiędzy Jego celem, jaki sobie wyznaczył a osiągnięciami. Sosai doskonale wiedział, że prawdziwy sukces to permanentny proces kroczenia drogą a nie dojście do jakiegoś celu i dlatego Jego osobowość stale się wzbogacała a Jego wspaniała idea Kyokushin stale rosła w potęgę. Jego postawa i niedościgniony wzór wskazały nam, jaką drogą powinniśmy podążać w życiu, pokazał nam, iż cierpliwość i samodyscyplina to wartości, które prowadzą do sukcesu podążając Drogą Kyokushin.
Droga Kyokushin to poszukiwanie najwyższej wartości, jaką jest prawda o sobie, to poszukiwanie drogi do samodoskonalenia własnej osobowości a nie szukanie prawdy poza sobą, czy w oderwaniu od siebie samego. Droga Kyokushin jest wiec drogą poszukiwania własnej, najlepszej, szczerej i prawdziwej osobowości poprzez rozwój własnego charakteru.
Już najwyższy czas zrobić ten wielki wysiłek i zjednoczyć ducha Kyokushin na całym Świecie.
Zjednoczmy się nie koniecznie pod jedną Organizacją ale raczej pod tą samą IDEĄ, którą Sosai Masutatsu Oyama zawsze rozprzestrzeniał w Świecie - ONE WORLD ONE KYOKUSHIN.
Sosai stworzył prawdziwą potęgę, nie traćmy tego, nie marnujmy dziedzictwa Sosai naszymi małymi, płytkimi ambicjami i podarujmy Sosai na Jego kolejne urodziny najlepszy prezent - ZJEDNOCZONĄ IDEĘ KYOKUSHIN.
Zawsze będę pamiętał moje pierwsze spotkanie z Sosai, jak wyjątkowo miły i szczerze przyjazny był w stosunku do mnie, i pamiętam Jego dłoń, ciepłą, w pewnym sensie delikatną, jednak ściskając tę dłoń zdawałem sobie sprawę i czułem to, że ściskam dłoń legendarnego Masutatsu Oyama zwanego Boską Ręką.
Shihan Leslaw Samitowski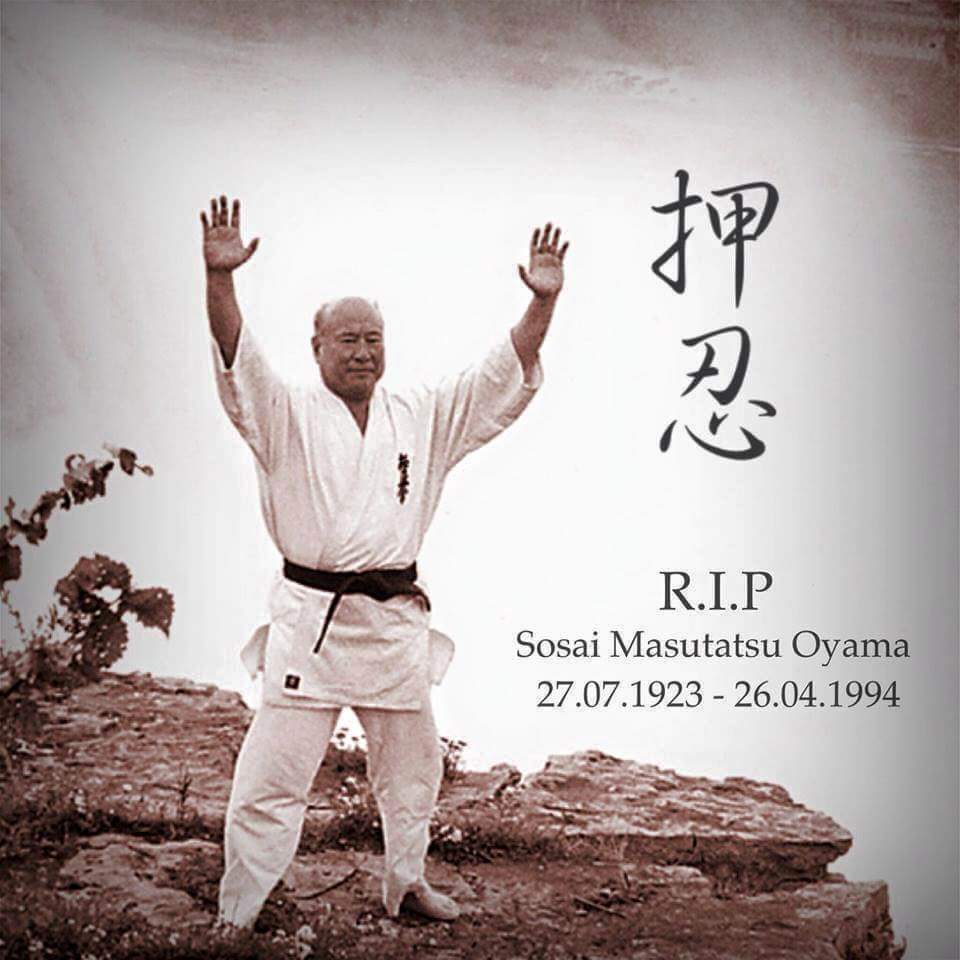 12.04.2015
SEMINARIUM Z SHIHAN SAMITOWSKIM KRAKÓW 11 KWIETNIA 2015

07.04.2015
SEMINARIUM KWF IVANO FRANKOVSK, UKRAINA 2015

24.03.2015
MISTRZOSTWA MAKROREGIONU WSCHODNIEGO OSTROŁEKA 2015